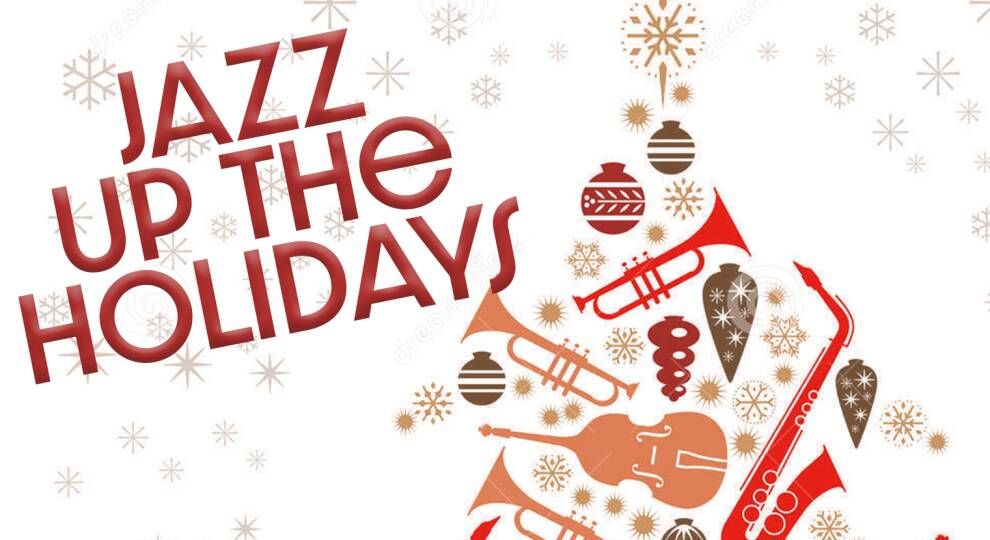 Looking for an event to meet up with friends? Or planning the office holiday gathering? How about meeting at the annual Big Band Christmas party with the Truth in Jazz Orchestra! 
Plenty of your holiday favorites along with the great big band favorites you know and love. Plenty of room for you to have your holiday get-together, with fresh sandwiches, snacks, and a cash bar.  Led by Muskegon legend, drummer Tim Froncek,  the Truth in Jazz Orchestra has been a Muskegon institution for the past 18 years. 
We will have some fun holiday jazz in the mix, as well as a couple of surprises! Have you ever heard a ukulele in a big band? How about a Greg and Vince doing a ukulele/bass trombone duet with a dash of sleigh bells? It even gets Dan and Drew doing a piccolo/piano duet later in the same piece! A very clever arrangement by the Grammy-winning arranger/bandleader Gordon Goodwin. If you came to 2019's event, you likely remember it! You may go home humming that song! :-D We also have some fresh holiday arrangements from Gordon Goodwin and Alan Baylock, and we even have the Grinch! 
Come early for sandwiches and the best seats. Hope to see you there! 
Adults - $5 cover / Students with ID - $2 cover 
Tuesday, December 21, 2021 - 7:30-9:30PM 
Doors open at 6:00PM 
Watermark 920 
930 Washington Ave 
Muskegon, MI 49441 
$5 cover - $2 for students
Fronted by West Michigan's legendary drummer, Tim Froncek, this group of 16 of the area's top musicians plays charts from the classic era of the big bands, up to today's best charts from the hottest writers. The band was organized by Dave Collee, Ed Spier, and Matt Lintula, who wanted a group able to play pro-level big band literature, and have fun doing it! We have assembled a great bunch of area musicians who enjoy the challenge of playing great charts in a large ensemble.

Playing a mixture of classic jazz big band pieces from the Buddy Rich, Woody Herman, and other big band libraries, plus some VERY recent charts from Gordon Goodwin and others.


TIJO - The Low Note Website - Debut